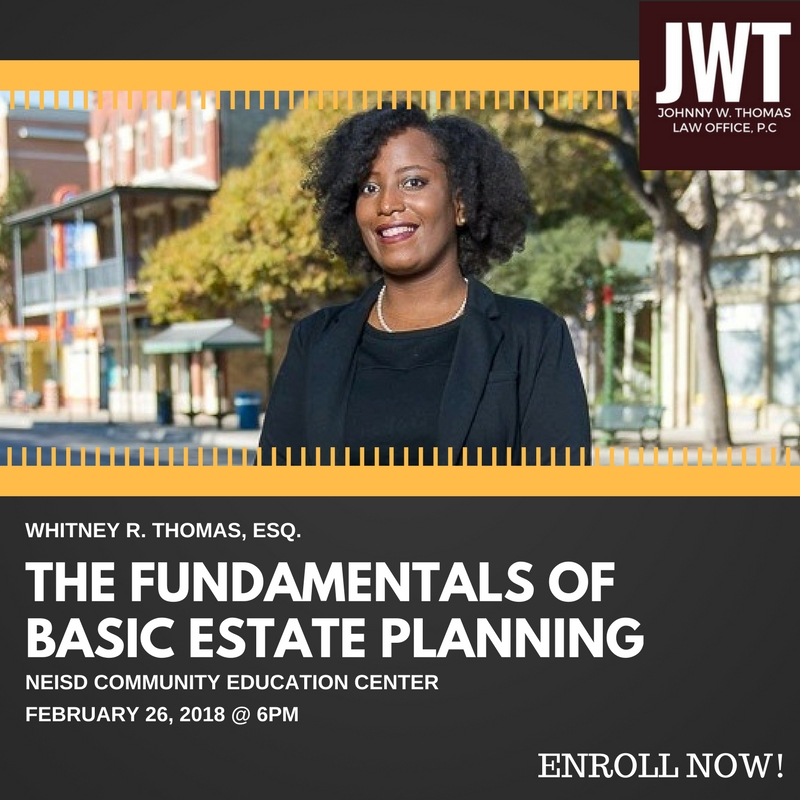 When: February 26, 2018 @ 6:00pm
Where" NEISD Community Education Center – 8750 Tesoro Drive, San Antonio, Texas 78217
Course Description: Basic estate planning is one of those essential tasks that get overlooked. During this class, Attorney Whitney Thomas will teach you about the significance of proper estate planning and what documents are needed to handle your estate matters in the event of death or incapacity. Furthermore, you will leave with the knowledge of the various Texas laws for probate proceedings and alternatives to probate. It's never too late to get started.
Course Topics Include:
What is estate planning and why is it important?

What documents should be included in my estate planning

The effects of naming beneficiaries for accounts and policies

Estate planning for you digital assets (Social Media and online accounts)

Brief overview of the probate process
HOW TO ENROLL:
Visit the NEISD Community Education page by clicking here.
Click on "Money Matters" on the right hand side of the screen.
Scroll down until you reach "The Fundamentals of Estate Planning"
Follow the instructions for enrollment.